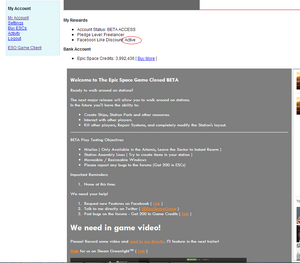 The Facebook Like discount gives any player 15% off all purchases of ES Online packages indefinitely.
How to get the discount
Edit
Step 2: You may have to log in again! (If you have to log in again, simply visit the Facebook Like Discount Tab again.) 
You will see "Active" under Facebook Like Discount when complete, and you'll have the discount the next time you check out.
Facebook Privacy
Edit
Due to Facebook privacy rules, this is the fastest way to get the discount. If you need any assistance, get into contact with the ES Online Team.
Thank you for supporting us!
Ad blocker interference detected!
Wikia is a free-to-use site that makes money from advertising. We have a modified experience for viewers using ad blockers

Wikia is not accessible if you've made further modifications. Remove the custom ad blocker rule(s) and the page will load as expected.